OK...So to those who don't know what Five Guys is...you should probably go look for one and eat there. And to those who know what they are..KUDOS TO YOU JIMMY!!!
So lets get down to the food itself. 5 guys serves what you think a regular burger joint serves
Burgers

Fries

Ice cold soda

Hot Dogs

Grilled Cheese
And Peanuts? Yupp at Five guys they have huge boxes of peanuts just waiting for people to eat them. And here's the cool thing...THEY'RE FREE oh yeah I'm not lying all the peanuts you wanna eat. But for me the goobers ain't the biggest attraction and turn on of this burger chain, the biggest turn on is the burgers themselves. Served in all different ways with different toppings, and those amazing fries.
NOTE: ALL PRODUCTS @ 5GUYS ARE COOKED USING PEANUT OIL...SO IF YOU HAVE ALLERGIES...SUCK IT UP AND EAT IT ANYWAYS!<3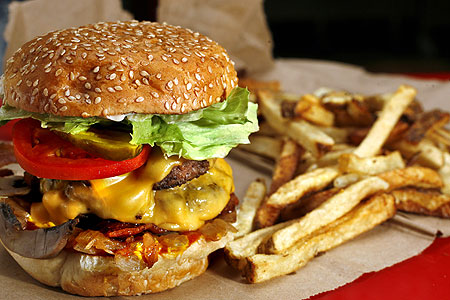 But um...here's a quick gist of how the food is...purely amazing meat is cooked amazingly not dry at all and all the toppings are amazing... So have fun and grab a burger :)
And honestly for 13 bucks a bacon cheeseburger, a coke, and fries is all worth it